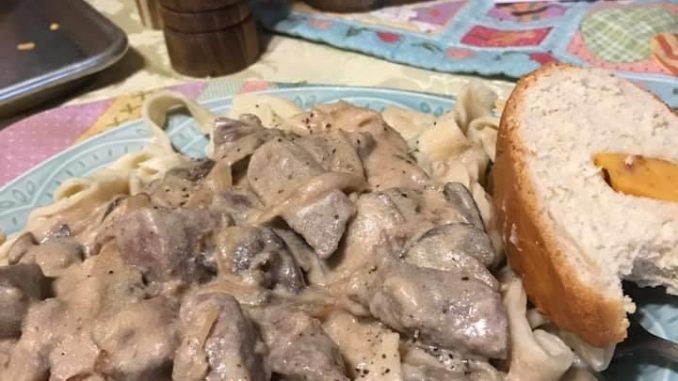 I think in this country some people are under the impression that every meal we eat should be different from the other. One meal for breakfast and one for lunch and one for dinner, which means we are preparing three different meals in a day. Well I'm here to inform everyone that this is privileged eating and is utter bullshit. When I posted a picture the other day of me making bread and beef stroganoff I would like to explain that I made enough of both of those things for my family of 4 to eat them for 3 to 4 days for multiple meals.
Yes, I do have a tendency to make a different breakfast, but it's usually very simple and cheap to make. I also have a tendency to make up a large quantity of food that usually lasts my family of four 3 to 4 days worth of eating. We will be eating beef stroganoff for lunch and for dinner until it's gone. I know this may seem shocking to some people to the point where they themselves can't imagine eating the same meal over and over again. If you're one of these people that are shocked and believe that every meal should be different then you have a food privilege.
If it's difficult for you to eat the same thing over and over again then I suggest freezing it and then making something else after day two. I have a tendency to make up big kettles of cheap soup with some type of bread side due to the fact that it is usually healthy and freezes well and it can be refrigerated and eaten over several days. Before I made this dish I made broccoli and cheese soup and before that I made up chili, which was all very delicious.
I had a good solid laugh a while back when I watched a news program that showed a cook making a single meal for a family of 4 for under $20. I laughed hard because I pay a fraction of that for my family of 4 per meal. Just to make the beef stroganoff and noodles and bread I paid an estimated total of $12 divided by six meals equals $2 dollars a meal for four people or $.50 each!
Like I said to somebody before do the math, but also comprehend that not every meal needs to be different. Also don't use I don't have the time as an excuse, because frankly you're only making one meal and then reheating the thing for multiple days. After all everyone has the time for that especially if you get the family involved in helping you make it to start with then it can become a family activity.