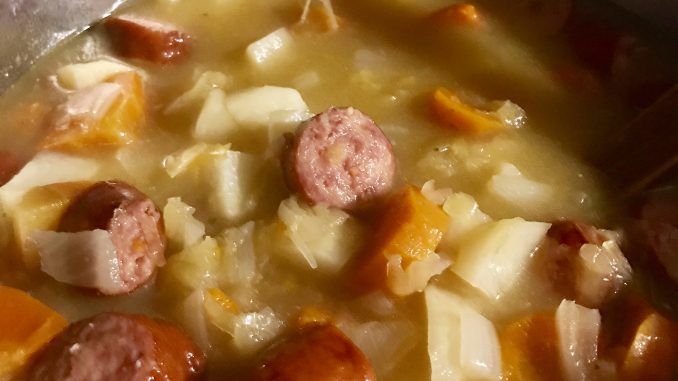 This is the new soup that I made up last night sausage sauerkraut and potato soup. I've been curious for some time to make a soup that incorporated sauerkraut especially considering the fact that I have tons of sauerkraut that I would like to use. I wasn't sure how it was going to turn out but it actually is very, very delicious! I tweak the recipe a little bit and did things a little bit from what the recipe recommended, which if you do cooking on a consistent basis then changing recipes is a common place thing.
In my soup I put it in a bit more brown sugar, used different potatoes and cut my onions differently and left out the caraway seeds entirely, because I didn't have them. Listed below is the recipe and the instructions and I hope you enjoy making it. The instructions are for making it in a crockpot, but I made it in a large pan rather than waiting for a crockpot. Also the first picture is of my soup and the second picture was provided with the recipe online. I highly recommend Tastes of Home for reliable recipes, because I have been using them for years and their stuff always turns out great.
Warning though not all of their recipes are very cost-effective, so you will have to look at that more closely if you're working with a tight budget. Most of the ingredients I had on hand, so it didn't require me to buy anything extra. The meat and the potatoes were the only things that I needed to purchase and I did that a while back. This was another very cheap meal for me and my family and will lasts for 3 to 4 days or 6 to 8 meals.
Sausage Sauerkraut Soup
By Tastes of Home
Ingredients
6 small red potatoes, quartered
3 medium carrots, cut into 1/4-inch slices
1 medium onion, cut into thin wedges
1 can (14 ounces) sauerkraut, rinsed and drained
1 tablespoon brown sugar
1 tablespoon spicy brown mustard
1 teaspoon caraway seeds
1 pound smoked kielbasa or Polish sausage, cut into 1-inch slices
2 cans (14-1/2 ounces each) reduced-sodium chicken broth
Slow Cooker Directions
In a 3- or 4-qt. slow cooker, combine the potatoes, carrots and onion. Combine the sauerkraut, brown sugar, mustard and caraway seeds; spoon over vegetables. Top with sausage and broth. Cover and cook on low for 8-9 hours or until vegetables are tender.
Instant Cooking Directions
In your soup pan place all of your broth, potatoes, onions, carrots, sauerkraut and allow them to cook for a period of time until the potatoes get softer. Then add in the meat, sugar, mustard and caraway seeds or any canned ingredients that you may use rather than raw that have been cooked already through the canning process. I used my canned carrots from my pantry so I put them in last because they have already been cooked and don't need to be cooked into mush.
Nutrition Facts
1-1/4 cups: 373 calories, 21g fat (8g saturated fat), 51mg cholesterol, 1707mg sodium, 31g carbohydrate (8g sugars, 5g fiber), 16g protein.