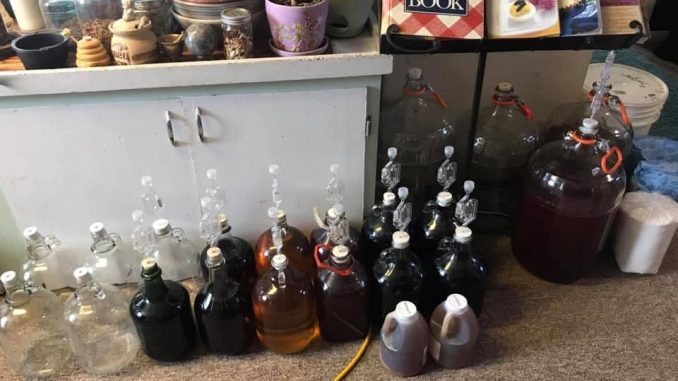 Well, on a more positive note today I am in the process of making wine. Currently I am making melon wine and pineapple wine and I will also here in the future be making Kiwi wine as well. The list of wines that I have made so far are dandelion, hard apple cider, current, elderberry, wild black cherry, wild plum, tomato and blueberry. I know what you're thinking that you've never heard of tomato wine, well I'm here to tell you it is very delicious and I'm going to be making quite a bit more.
This last fall we got a free gift from some friends of a very lovely reconditioned fruit press and this year we shall be pressing many apples to make regular cider as well as hard cider. The press can also be used for other fruits, so it will definitely cut down on the amount of handwork that I have to do to crush fruit. I will also be making up a 5 gallon carboy of honey mead as soon as I can get my hands on enough honey. I will also be making up a very large 6 gallon carboy of plum wine because to be honest I have a lot of frozen plums in my freezer and I only want to make so much jam.
Last year I also luck out because of the keen eyes of a friend watching craigslist and was able to come by 300 wine bottles that we got for free. So, when my wine is done I will have the ability to bottle and age it. I also got for dirt cheap through the Facebook sale site around 25 glass 1 gallon jugs that can be used to ferment the wine. They are in a rough shape, but I am cleaning them at about six at a time, and I am only cleaning the ones I need to not get overwhelmed by the process. It is also my plan relatively soon to be setting up herbal tinctures for healing and I will be doing that in vodka.
With everything going on I think it's best to keep myself busy and to spend time with family and of course have a nice glass of wine once and a while.